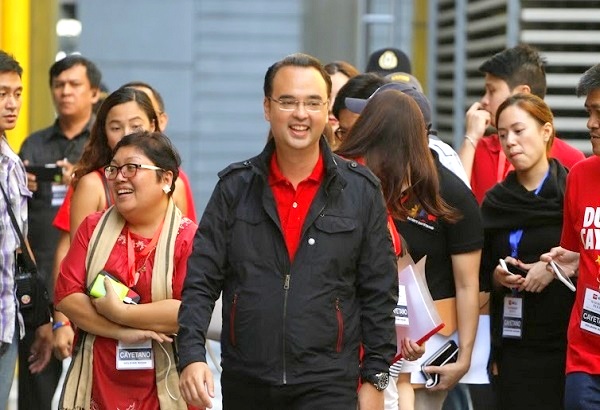 Vice presidential bet Senate Majority Leader Alan Peter Cayetano led candidates in repeated assaults against Sen. Ferdinand "Bongbong" Marcos Jr. during the vice presidential debate held at the University of Santo Tomas.
Philstar.com/Efigenio Toledo IV
With 14 days to go before the elections, vice presidential candidate and Senate Majority Leader Alan Peter Cayetano pressed with his campaign, this time going to Dumaguete to talk to transport workers.
As part of his "Ronda-Serye" Listening tour, Cayetano talked to the transport workers comprised of members of the city's Tricycle Operators and Drivers Associations (TODAs).
The senator said that part of his platform, which he shares with his running mate, Davao City Mayor Rodrigo "Rody" Duterte, is to provide people's organizations like TODAs better access to capital to grant small loans to their members.
He cited how loan sharks take advantage of the poor who are forced to borrow money through a "5-6" scheme due to lack of access to bank and government loans.
Cayetano also pledged that if elected, he and Duterte will guarantee 100 % PhilHealth coverage for Filipinos and the full implementation of its "zero billing" services to members. The vice presidential candidate also plans to increase the budget for PhilHealth to subsidize the premiums of transport workers in the country.
Cayetano however said that in the end,
it's the political leadership that will win the day.
"We may have the best of platforms but the question is, who will put flesh on the bones and just get things done? Who has the political will to do what is necessary?" Cayetano said.
"Kami ni Mayor Duterte, we don't just have a good platform, more importantly, we are the best tandem that can get things done. We have the political resolve to put an end to the disorder brought by corruption, crime, and illegal drugs. Ee will just do it," Cayetano concluded. #